EVOLUTION OF THE AMERICAN CIRCUS CLOWN  & PATTY ASTLEY, FIRST LADY OF CIRCUS
EVOLUTION OF THE AMERICAN CIRCUS CLOWN
by Rodney Huey, Ph.D.
Clowns predate the circus by several hundred years. But the moment a comic slack rope walker named Fortunelly stepped into the circular ring of Philip Astley's (1742-1814) first circus performance outside London in 1768, the clown had found a new home. For the next 250 years, clowns have been practically inseparable from the circus. Wherever you find a circus, odds are good that you will also find a clown creating havoc, mischief and mayhem.
In the United States, the evolution of circus clowning is an interesting one, primarily because American clowns did not have the long comical heritage as did their European counterparts, such as mountebanks, charlatans, court jesters, Shakespearean clowns or characters of Italy's commedia dell'arte. American clowns had to learn from one another and the audience. A successful American clown in the 19th– and early 20th-century circus earned his/her stripes by trial and error during a performance. If the audience laughed, then it was funny. If not, then it was back to the drawing board.
Another interesting aspect of the American circus clown's evolution was that there was no formal training or lines of succession. Many legendary American circus clowns during the first half of the 20th century were former circus performing artists or staff members before becoming clowns. For example, Otto Griebling (1896-1972) began his circus career as a bareback rider; Lou Jacobs (1903-1992) was an acrobat and contortionist; Felix Adler (1898-1960) worked during the summers as a water boy before joining the circus cast; and Duane Thorpe (1924-1995) was a wardrobe assistant before turning to clowning.
However, when American circuses fell on hard times after the end of WWII, aided by the introduction of television into American homes, one by one circuses began to close, including the granddaddy of all American circuses – Ringling Bros. and Barnum & Bailey Circus. By the mid-1950s, the once-vibrant circus industry was practically shut down, again including the Ringling show that folded its Big Top tent after the final performance in Pittsburgh, Pennsylvania on July 16, 1956. Here is where the face of the American circus clowning began to change.
Rock 'n' roll concert promoter Irvin Feld (1918-1984), along with his brother Israel (1912-1982), revived the tour for the Ringling show in 1957, booking it into modern air-conditioned sports arenas that were being built in practically every major and secondary city in the United States. This arrangement worked for a decade for Ringling owners John and Henry Ringling North, as well as for the Feld brothers. However, in 1967 the Feld brothers, along with Texas Judge Roy Hofheinz (1912-1982), pooled together their money to buy the iconic, and by this time, lackluster Ringling Bros. and Barnum & Bailey Circus, signing the papers in an elaborate ceremony at the Colosseum in Rome on November 16.
The Feld group wanted to book their new show into additional arenas around the country, but there were more arenas than weeks in the year. They decided to launch a second touring unit of The Greatest Show on Earth.[i] Without a talent pool of circus performers to draw from, the Feld group was at a loss on how to build a second unit similar in size, scope and talent of the original one.
They found their answer in Europe by purchasing the entire German Circus Williams to acquire the talent of Europe's outstanding animal trainer, Gunther Gebel (1934-2001),[ii] and transported it to Ringling's winter quarters in Sarasota, Florida. Now the group had the foundation for a fresh, new show with imported circus talent. However, there existed a problem with the clowning.
Typical European circuses perform with one, two or three clowns at the most, but Ringling's three-ring circus created massive floor space that needed to be filled by more than one single-ringed German circus. Clowns and dancers were the answer. They also gave the show a distinctive American look.
When producer Irvin Feld surveyed his existing clown alley on the original touring unit, he was looking at 16 clowns with an average age of about 55 years, including one veteran who was 80 years old. Feld is purported to have quipped: "I know they can fall down, but can they get up again?" He needed fresh, young clowns, and he need them fast. Thus, the impetus for creating Ringling Bros. and Barnum & Bailey Clown College in September, 1967 as a training ground for an entire new generation of circus clowns.
The 1960s were turbulent times in the United States, where many in the emergent youth generation became dissatisfied with the Vietnam War and could not see the corporate world, dubbed the "military industrial complex," as a particularly bright future for them in their unfolding brave, new world. The talent pool for recruiting young, talented and artistic people seemed unlimited. Applications soared for Clown College. With an average of only 30-35 students selected each year to attend Clown College from the thousands of applications, Feld's public relations team coined a catchy marketing slogan: "Clown College is harder to get into than Harvard University."
From 1968 through 1997, Clown College held 30 annual sessions under the directorship of six directors (or "deans"), three of whom were Clown College graduates themselves, and graduated approximately 1300 graduates. From each class, approximately one-third of the graduates were recruited to join one of Ringling's two traveling show as "First of May" novices.[iii]
Clown College classes were held for approximately eight weeks each year, led by a dean and faculty of 25+ professional instructors that taught juggling, unicycling, acrobatics, makeup, prop-building, costume making, pie throwing, dance, choreography and comedy history through classic American comedy films. Guest performing artists were brought in from time to time, such as high wire daredevil Philippe Petit who had captured the imagination of the world with his high wire antics between the two towers of the World Trade Center in New York City in 1974. After eight weeks of all-day instruction, the students became grounded in basic performing skills. But, who would teach them circus clowning and how to be funny in an arena of 12,000 people?
Feld turned to those 16 veteran members of his original Clown Alley, recruiting a handful to teach at his new Clown College, including Otto Griebling, Lou Jacobs, Duane Thorpe and the diminutive Prince Paul Rupert. The veterans were skeptical, thinking that they were training their replacements, and over time, this became true. Of the 28 graduates of Clown College's first class in 1968, half joined the Red unit and half joined the Blue unit. Their job was to learn from the older veteran clowns, and the veteran clowns were to teach and guide the clowning neophytes. The slow transition from self-taught veteran clowns to a Clown Alley solely populated by Clown College graduates lasted through the 1990 season when Duane "Uncle Soapy" Thorpe became the last veteran clown to retire from active clowning.
However, the story of the American circus clown, particularly as it relates to Ringling Bros. and Barnum & Bailey Circus and Clown College, took a peculiar turn in 1991. Owner and producer Kenneth Feld, son of Irvin Feld who had died in 1984, took a "major risk" when he decided to put a clown as headliner of one of Ringling's units. With 1300 Clown College graduates to choose from, many of whom learned the "tricks of the trade" from performing with one of the two touring units, Mr. Feld instead turned to Italy's David Larible to be his headliner star for the 121st consecutive edition in 1991. The move was so successful that Mr. Feld hired American-born Bello Nock to headline the other traveling unit in 2001. Although American born, Nock did not attend Clown College. Rather, he seems to have inherited his clowning genes as the nephew of the famed Swiss clown Pio Nock. From 2001 until 2008, both Ringling Bros. and Barnum & Bailey Circus units featured solo clowns as headliners,[iv] including a two-year stint by Tom Dougherty, the only one of the three headliners who was a Clown College graduate.
Clown College closed after its 30th and final session in 1997. The Ringling shows continued to audition for new clowns to fill the void of fresh funsters supplied annually from Clown College, with most of the training taking place on the units. After the turn of the 21st century, fewer and fewer clowns in the Clown Alleys of both traveling units were Clown College graduates.
There is absolutely no doubt that Clown College had a huge impact on American circus clowning, inspiring a new generation to appreciate and even pursue clowning as a profession. It solved the Feld group's problem of populating a three-ring circus floor each year with colorful, energetic, innovative and fresh young clowning novices. It also set the standards for the look, demeanor and behavior of the typical American circus clown. In other words, Clown College literally changed the face of the American circus clown of the late 20th century and into the new millennium.
What will the future face of the American clown look like now that Ringling Bros. and Barnum & Bailey Circus has permanently closed?[v] That is a ponderable question. Some of the Ringling clowns are performing with smaller U.S.-based traveling or seasonal stationary circuses; some found employment in one of the scores of stage shows; some joined foreign circuses and/or theatrical comedy shows; while others were forced to seek fulltime employment in other professions, relegating their clowning skills to a second-hand hobby.
But the final truth is that Clown College brought about the most radical change in American clowning history. Much like the concentric waves that spread from a stone's toss into a pond, Clown College's lasting impact will most likely spread much farther and wider than was the stone's original intent.
[i] The Greatest Show on Earth is a registered trademark of Ringling Bros. and Barnum & Bailey Circus, and is often used to refer to Ringling Bros. and Barnum & Bailey Circus.
[ii] The animal trainer's name was Gunther Gebel, but when the Feld Group bought the Circus Williams, he added the hyphenated "Williams" to his name as a tribute to Circus Williams' owner Harry Williams.
[iii] In the American circus, a "rookie" clown is called a "First of May," a term coined when each new Ringling edition would leave its premiere in New York City in early May for its annual road tour, and hire several new clowns.
[iv] In 1991-2000, David Larible left the Ringling show to headline Ringling's one-ring tent show entitled Barnum's Kaleidoscape.
[v] Ringling Bros. and Barnum & Bailey's Red Unit closed on May 7, 2017 after its Sunday performance in Providence, Rhode Island; and the Blue Unit closed in Long Island, New York after its final performance on Sunday, May 21, 2017.
Rodney Huey is an advisor to the Fédération Mondiale du Cirque and former Vice President of Public Relations for Feld Entertainment, Inc., parent company of Ringling Bros. and Barnum & Bailey Circus. He completed his doctorate in 2006, writing his dissertation on Ringling's Clown College.
PATTY ASTLEY FIRST LADY OF CIRCUS
by Professor Vanessa Toulmin, University of Sheffield
The circus particularly as it developed internationally throughout the nineteenth century provided an opportunity and a refuge from normal conventions where limbs could be shown and bodies could be athletic. Women flew through the air, straddled their steeds, tamed wild beasts and achieved feats of astonishing bravery and skill. These sisters of the sawdust challenged conventions and pushed boundaries with one troupe described by the Coventry newspapers in the 1850s, as being 'as graceful as they were disgraceful'! Their narratives demonstrate the range and diversity of women's performances across the centuries. Navigating between the sauciness of Adah Menkeh who shocked London in 1865 with her bare limbs when appearing as Mazeppa, through to the gracefulness and respectability of later artists catering for the more refined middlebrow, these stories and the impact they had are hidden from conventional narratives and the range of roles occupied in the circus arena is often overlooked.   From the untold story of Patty Astley the First Lady of Circus, and the countless artists who traversed across Europe and America and the World for 250 years, all aspects of circus performance were presented by women. In this anniversary year their stories need to be told, critiqued and fully researched in the context of both circus and feminist history. None more so than Patty Astley arguably the first woman to enter the ring.
The First Lady of Circus
Much has been written about Philip Astley and two new biographies dedicated to him appeared in 2018. However, his wife Patty, who from the first advertisements is headlined alongside Philip as 'Mr and Mrs Astley will perform', has been previously written out of the historical record or reduced to a footnote.  Described as either the wife of Philip or later the mother of John with even her name and identity still debated by some historians, the real story of Patty Astley (nee Jones) equestrienne rider par excellence, first lady of circus and an accomplished performer deserves to be told – in her husband's words 'my wife who will finish the show'.   Patty Astley was born Martha Mary Polly Jones in Flintshire in 1741. She married Philip Astley on 8 July 1765 at the church of St George Hanover Square, London.  Details of her early life and family are being researched by the Philip Astley Project but on the marriage license she is stated as a spinster of the parish of St George with Philip listed as a gentleman of the Parish of Egham Surrey.  In April 1767 John Conway Astley was born, the only child of Philip and Patty and the future star of the fledgling dynasty. Later circus chroniclers such as Thomas Frost or reminiscences such as Decastro mention Mrs Astley in passing but details are lacking. The earliest newspaper advertisements of the Astley's exhibition of horsemanship in the British Library present a clear chronology of Patty's development as a trick rider and an essential part of the story of early circus.  The initial advertisements for Philip Astley's 'Activities on Horseback', can be found in early April. By the end of May, the entertainments were being publicised as Mr and Mrs Astley with detailed descriptions of Patty's act from 30 May 1768:
Mr and Mrs Astley ride two horses both together at one time, and yet they only have two to ride on – she leaps the bar between two horses at full speed she rides two horses with one foot in each saddle and fires a pistol – she leaps the bar on a single horse and she exhibits on full speed the different guards made use of by Elliots Prussians and Hellian Hussars… also the manner in which Elliots charged the French troops in Germany in the year 1761.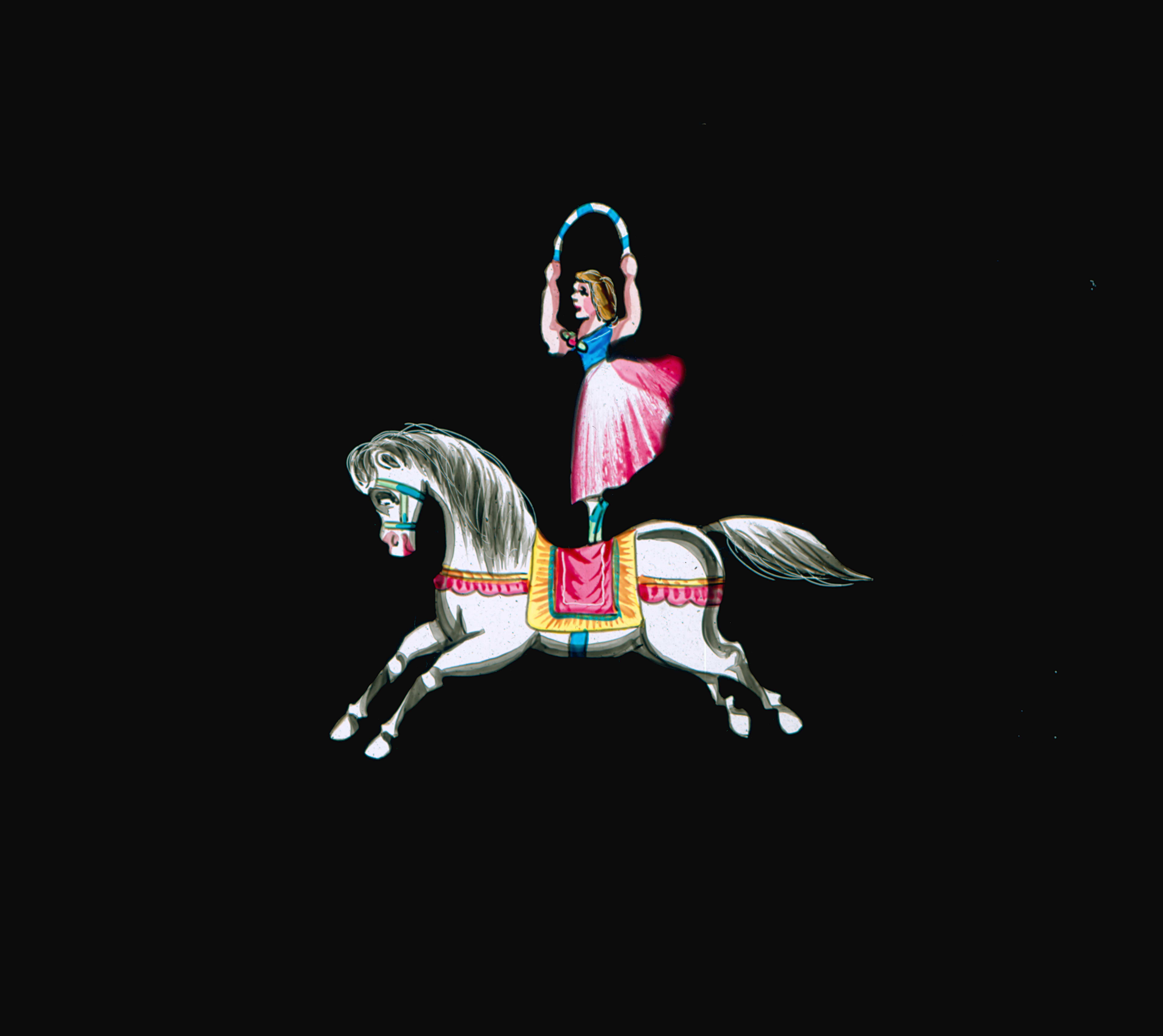 By 11 June the importance of Patty in the show is demonstrated by Astley's ditty:
'When you have seen, all my bills expressed,
My wife, to conclude, performs the rest…
And what a conclusion it was with Patty standing on her head and riding two horses:
Mrs Astley the modern rider performs several feats, amongst which are, leaping the bar with one foot in each stirrup, riding two horses standing with one foot on each saddle…
Patty's act continued to develop and be an essential part of the show as the Astley's moved to Westminster Bridge in 1769.  As the new Amphitheatre was created Patty rode alongside her son John Conwyn and on 9 July 1770 Patty was awarded her first benefit performance, a theatrical practice where the takings of the evening are given solely to the named artist.  An early handbill in the British Library from 1771 proclaims:
Horsemanship. This and every day, at six o'clock in the evening (Sundays excepted) Mr. Astley, the original English warrier from Gen. Eliott's Light Horse, and Mrs. Astley, will exhibit the most wonderful and surprizing performance, … on one, two, and three horses…
In the spring of 1772 Patty and her husband were invited to perform for King Louis XV at his castle of Fountainbleau, an honour seized upon in advertisements for the 1772 season:
Likewise Mrs Astley will display the same feats of Activity as she did before their majesties in Richmond Gardens, and likewise before the whole Court of France at the Grand Camp on Fontainbleau, being the only one of her sex that ever had that honour.
The London papers were quick to bestow praise on Patty, especially important at a time when Charles Hughes and his wife were operating a rival concern less than a few hundred yards away featuring Mrs Hughes, a Miss Huntley and Hughes's eight year old sister.  Advertisements increased rapidly for Astley's presentations and Patty's trick riding, describing her skills with two horses, riding with her five year old son and concluding:
Praise for Mrs Astley – what is more extraordinary is the various equilibriums of Mrs Astley we hear she was much admired when exhibited before her Majesties last summer but now she is greatly improved in several feats of her horsemanship …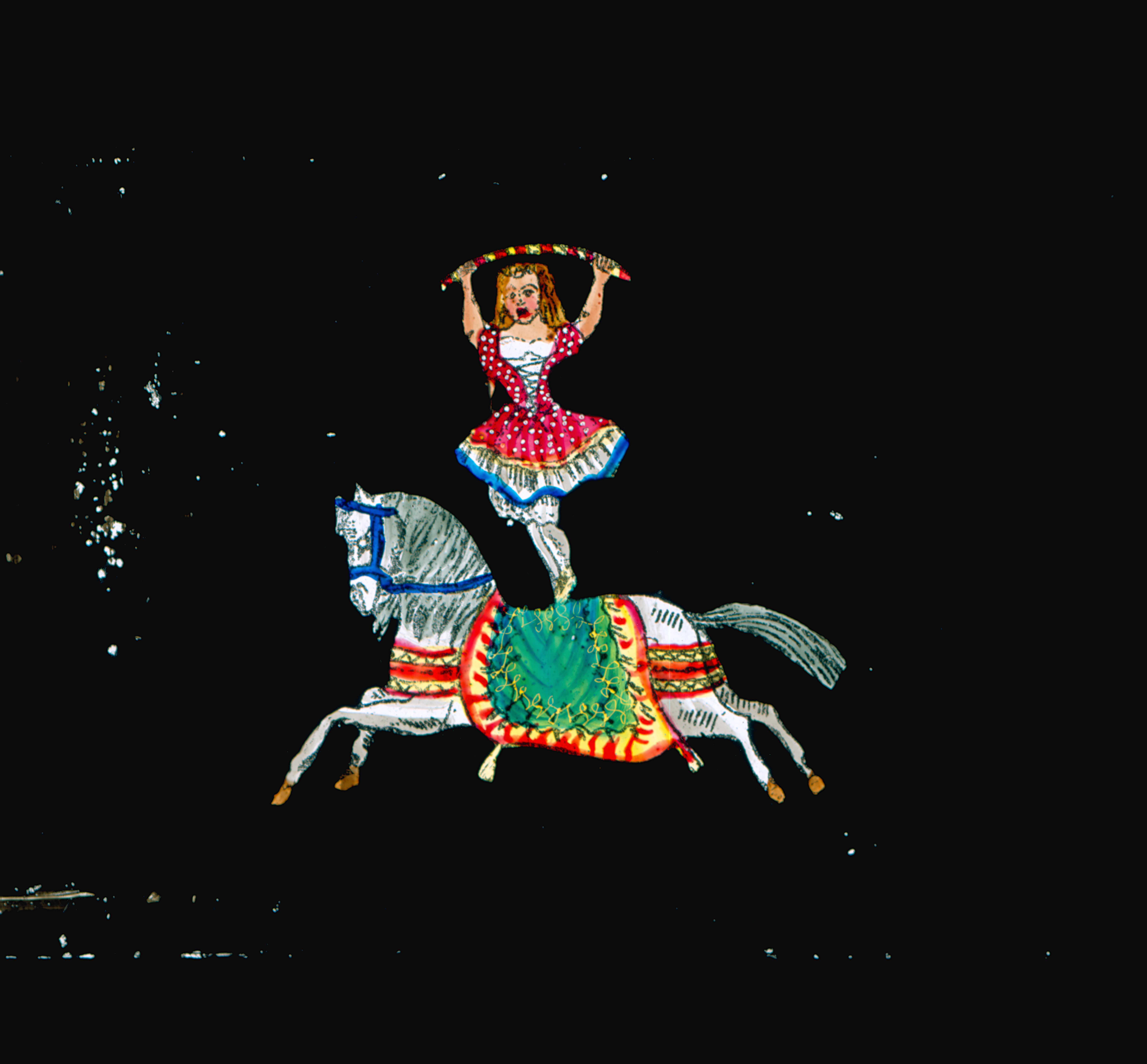 Patty appears in over fifty different references in the London papers in 1772 and an illustration from the handbill dated Tuesday 14 September includes a female rider standing sideways on the saddle in a long dress and mentions Mrs Astley within the text.  This image of a female equestrienne on two horses also appears in a pamphlet from 1873 and is referred to in the text as 'as a young lady or Mrs Astley rides two standing on two horses on full speed with great Elegance. This Feat of Activity is each Evening varied, for which Reason the Particulars cannot be specified'.  This is such is the only known image of Mrs Astley.   Patty's most famous act and the one ironically for which she is remembered is riding into the arena with a swarm of bees. This is one that she learnt from Daniel Wildman in 1772 and who was part of the early routines:
Mrs Astley and Mr Wildman between the several acts of horsemanship will ride with a swarm of bees in the following manner. Mrs Astley with a swarm of bees on her arm, imitating a lady's muff, then Mr Wildman will move them on his head and face in a most extraordinary manner. 
Patty continued to develop her bee routine with Daniel Wildman expanding it to include three hives of bees and incorporating additional tricks into the performance. A description from Patty's Benefit performance in Dublin in 1774 reveals the additions:
See, Mrs. ASTLEY, well known for her great Command over the Bees, will (this Day and To-morrow) exhibit with three Swarms of Bees, which will truly surprise the Spectators (she will command them her Arm, imitating Lady's Muff will order them to march across a Table, which they will absolutely a manner beyond Conception.
As the Company toured the regions in 1775 and 1776 Patty continued to ride and 'command her bees'.  However, the programme of entertainment in Astley's Amphitheatre was incorporating more floor acts, additional female riders and the Young Astley as the star performer. Circus although not yet presented under that name was recognisably a genre in its own right and 250 years on it is the Astley name that is celebrated.  From 1877, Patty's presence in the newspaper adverts becomes reduced or non-existent and the memory of her early performances and the role she played with her husband vanishes from the public conscious and from the historical narratives.  The reasons for this may be found in the notice of her death over 25 years later in the London Gazette August 1803 which states that  'On Thursday last, after a long and severe illness, Mrs P Astley, Mother to John Astley, Esq. of Royal Amphitheatre, Westminster Bridge, died aged 61 years'. Her husband Philip followed her eleven years later, diagnosed with gout in the stomach, on 20 October 1814 aged 72 and buried in Pere Lachaise cemetery in Paris. He had spent forty-six years developing his art of equestrian entertainment and, 250 years on, it is still recognisable today.  However, he did this with the support and participation of his wife, at least for the first eight years as equal partners and one of the shows early stars. Later chroniclers may have lessened her impact, but to her contemporaries she was described as such in the following way: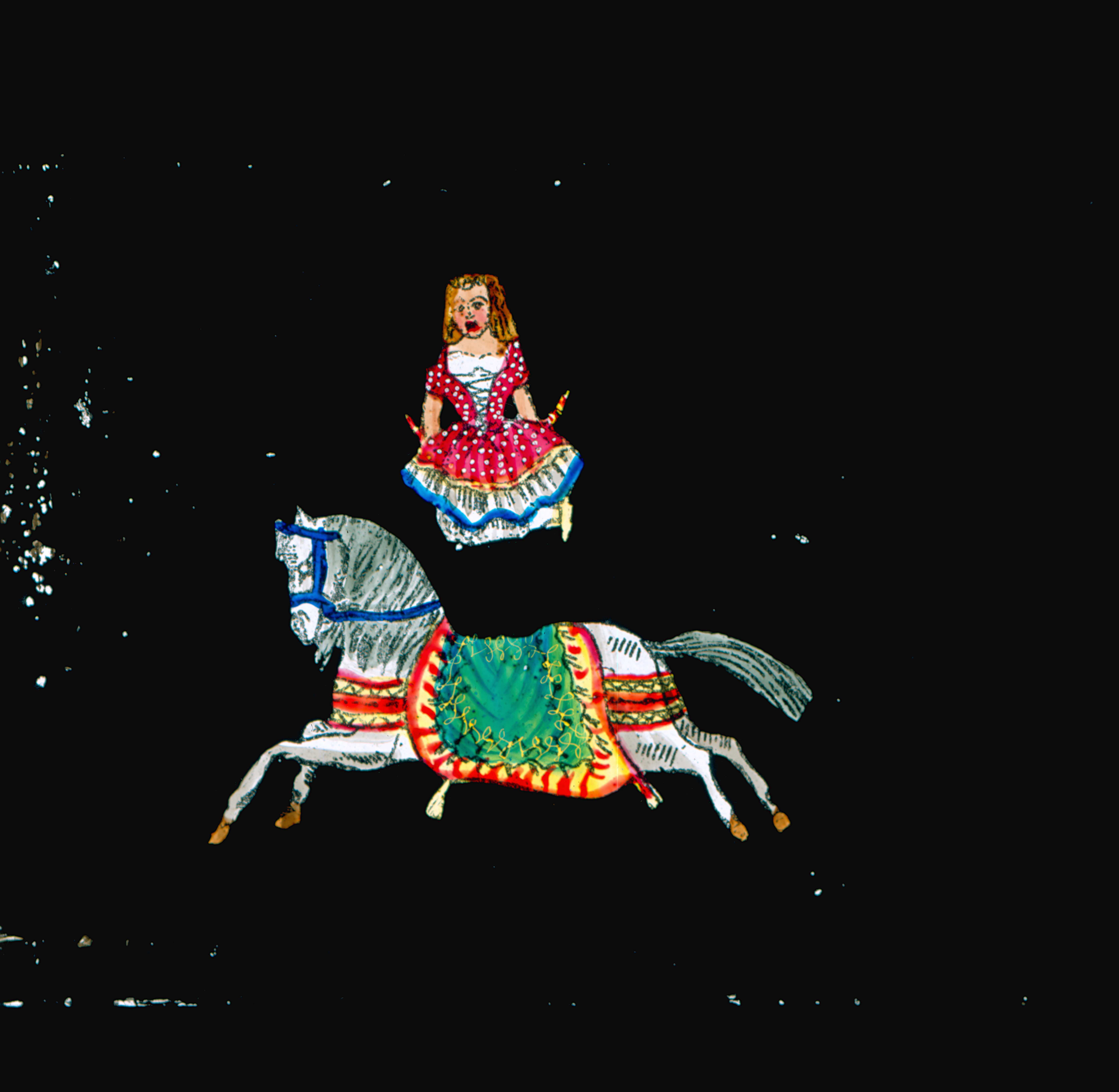 She with uncommon Art and Matchless Skill
Commands these Insects to obey her Will
With bees all others cruel means apply
She takes the honey but them death not destroy.